Tweet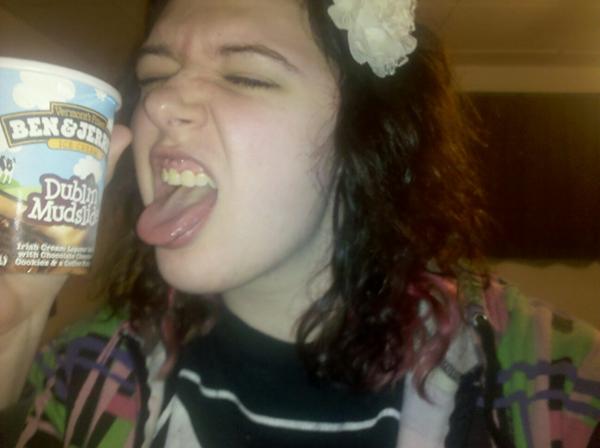 To hell with diets. Seriously.
You know why diets don't work (for me)? Because my heart isn't in it. I have these lofty goals of eating awesome raw veggies and lean proteins…and you know what I end up eating? Dublin Mudslide.
Not that I think it's a good idea to eat a pint of ice cream at every meal. After all, I'd rather not have to sew tents together to make pants. But what if I get run over on the street tomorrow? I don't want my final thoughts to be, "Man, I really wish I would have had the ice cream instead of a damn carrot." Hey, if the carrot's your thing, more power too you. And yes, I do understand that health is important. What's a life without the things you enjoy, though?
Me? I enjoy ice cream.
And I think there's a lesson in that.
In life, we try to do what is right. Or, at least, most of us do, and since you're here with me on the coolest website on earth, I'm going to assume that you're one of the good guys. The problem is that what we're told is "right" is not necessarily the thing that will make us happiest. And to me, that's what it's all about.
Not to get religiously philosophical on y'all, but after we die, no one really knows what happens, and it's unlikely that anyone will ever know. What we have is now, this one certain thing, this life we're living. Why spend your life doing what is "right" only to look back on it at the end of your days and realize that you missed out on a lot of happiness?
For you, "right" might be quitting school to become a full-time bartender. Or "right" might be taking a crappy office job that you don't really love because it provides you with stability so you can focus on the thing that is more important to you, your home life. Maybe "right" is living in another country, even though it means moving away from everything and everyone you know. "Right" could be starting your own business. Hell, "right" might even be giving up your career completely to be a stay-at-home mom or dad.
The thing is, don't let anyone else tell you what "right" is, not in terms of your career, not in terms of anything in your life. There are so many sites out there telling you that you have to live some kind of fabulous, unconventional life in order to be happy, but it's really not any different than the overbearing parents who force you to go to law school. You don't have to sell all your shit and travel around the world to be extraordinary.
And even more importantly, you don't have to know what is "right" for you. That's the fun part of life, figuring it out. People like to encourage college students to take all sorts of random classes just to test the waters in many different fields, but for some reason, we're not expected to do that anymore after graduation. I say, fuck it. If you want to dabble for a few months or years, do it. Find what makes your heart sing. Then, find the people who bring out that joy in you and keep them close.
In other words, eat as much Dublin Mudslide as you want. To hell with diets. Seriously.
Like what you read here? Stay connected with the After Graduation community and receive a free copy of Career Oomph!, a weekly newsletter to help you stay motivated to find that perfect job: